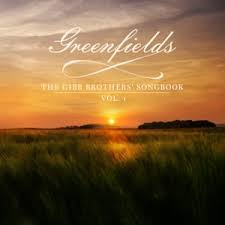 So often when an aging Pop singer does a re-release of his or her own hits featuring today's artists as duet partners I expect a diva project. But "Greenfields: The Gibb Brothers Songbook, Vol.1" is not that. In fact, this reimagination of many of the group's biggest hits surprised me with heartwarming respect and pride that yes, these were MY songs growing up.  After the devastating nosedive of the BeeGee's coolness factor in the late '70s due to no fault of their own… I can once again boast that their familial harmonies, heartbreaking hooks and steady dance beats, were an important part of the soundtrack to my life.
Go figure, Barry chose many artists to team up with on this collection of some of the most iconic Bee Gees hits. Most of his partners are new country artists, like Kieth Urban, who opens the record with "I've Got To Get A Message To You".  With his vocals first I actually thought for a minute he WAS a vibrato-less Barry, he was so clean and spot-on… but then, when Barry joined in, it was like "Oh yeah, there's our guy…". Just beautiful. Brandi Carlile matches that vibrato beautifully on the reimagination of "Run To Me", Allison Krause is at her best on "Too Much Heaven", Sheryl Crow sounds light and lovely on "How Can You Mend A Broken Heart", Little Big Town and of course Dolly Parton just make stirring contributions with "Lonely Days" and "Words". For me, Jay Buchanan (of the relatively unknown rock band Rival Sons), a big highlight of the album, brought "To Love Somebody"  to a whole new soulful place that I want to visit over and over again.  He also provides vocals on one of the albums few misses, a really sad version of "Jive Talking" which opens with Buchanan sounding like a drunk Barry Gibb, who's singing a 45 on 33 (a few of us still get that). Miranda Lambert joins that cut which is a waste of her, really. There's a song called "Butterfly" that sounds outdated and kind of "meh"… not because of Gillian Welch and David Rawlings vocals, but more because I find it to be just kind of a cheesy song. It was written when the BeeGees were kids in Australia, so maybe it shows.
But hey, on a really happy note… there's  Olivia Newton-John, yes! She and Barry's version of "Rest Your Love On Me" shows that Olivia's voice has barely changed over the years. Barry, on the other hand, sounds a bit heavier on the S's and SH's, but it doesn't detract at all from his super smooth swaggy style, and when he throws in the occasional background yelp you'd never know that some 60 (yes!) years had gone by.
I recently watched the HBO Doc "The BeeGees: How Can You Mend A Broken Heart". It was so much fun to see the history of the Gibbs and the old footage. After the losses of both Maurice and Robin, the chance of hearing Barry bring that music to life again was unlikely.  Seeing how much he misses them, I am just so happy this project came to light.  The brothers wrote and recorded so MANY songs… (they wrote 17 #1 hits alone!)    There are just 12 songs on this release… which hopefully means "The Gibb Brothers Songbook: Vol.2,3,4, and on… " will follow.